Waterproof channel letters for shop signage
LED channel letters can be crucial in a highly-competitive business world. It is often the key to maximising
a location and helping your company to 'standout fromthe crowd'. Expertly designed and manufactured signage
promotes your business to a wide audience.
304# stainless steel return,small metal trim on the face,waterproof led modules inside,lighting from colorful acrylic
face.All this make lighting box channel letter suitable for large letters and signs.
Feature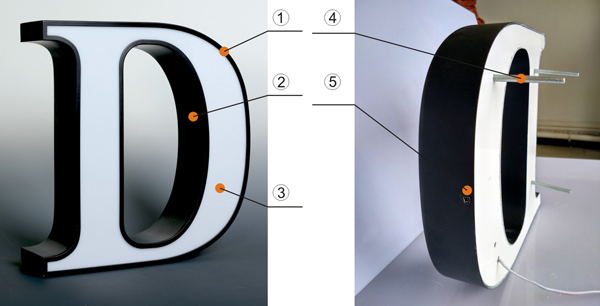 ① 304# Stainless steel trim: The wide ≥1/63"
② 304# Stainless steel return: 1/25" thick,(8/5"--10") deep
Material Options:
1. 304# grade Stainless Steel
2. 316# grade Stainless Steel (Marine Grade)
3. Galvanized Steel Sheet with customized Paint
Surface treatment of the face and return:
1. Mirror or brush polish

2. Power coated: Black,White,Red,Grey
3. Customized Painted
4. Plating: Titanium,18K gold,Rose gold,Copper,Black titanium,Dark Copper, Green Bronze
③ Acrylci face:1/10" or 1/5" thick,Customized color
Commonly used color:White,red,green,blue,yellow
④ Screw for install
⑤ Screw to fix the trim cap and bottom together
Surface treatment of metal part:
Mirror polish

Brushed finished

Customized painted

Powder coated

Titanium

Mirror/ brushed

Black titanium

Mirror/ brushed

Rose gold

Mirror/Brushed

Black Gulch-gold




Copper

Mirror/ brushed

Dark Copper

Brushed

Green Bronze

Brushed



What we needs befor produce
Vector based art(AI,CDR,DXF...)
Size(Height)
Quantity
Color:Return,acrylic,lighting
Indoor or out door used
Mounting method
Description:
Size:10"-95"
Various representations of color, brightness and shape
Eye-catching: high brightness, view distance > 2000m in the night
High intensity: Not easy to fade or distort, resistant for pressure,strike,water,sour,alkali.
Environmental protection: have no light pollution or chemical pollution
Energy saved: Low in power consumption, great for energy saving
Safety: Low electric current output.